Long lines for rides are one significant downside to the Disneyland parks. During peak season, lines for the more popular rides can approach and exceed 2 hours! But there IS a way to cut your wait time significantly for the more popular rides. The Disneyland FASTPASS system allows you to cut as much as 80-90% of the wait time for bigger rides on a busy day! So how does Disneyland FASTPASS work?
AN ACCEPTABLE WAY TO CUT IN LINE
The FASTPASS system is essentially a means to make a reservation to enter an express line for a popular ride. And its FREE to use! Get passes for everyone in your group then come back to the ride during your reserved time window and wait in a 5-15 minute line instead of a 1-2 hour line!
WHERE AND HOW TO GET A FASTPASS
There are basically 2 ways to access the FASTPASS system – via the pass distribution areas near the rides or via Disneyland's new MAXPASS option. This article will focus on the older method. Check  my MAXPASS page for details on that option.
Rides served by FASTPASS will have 2 line options – STANDBY (the standard line) and FASTPASS RETURN (the express line).
Let's say you want to get a pass for Space Mountain, one of the most popular Fastpass served rides for which lines can exceed 1.5 – 2 hours on a busy day!
At the head of the line will be a sign that shows the approximate STANDBY wait time (how long the primary line is) and the current "Fastpass Return" time. This return time is a one hour window during which currently issued fastpasses will be honored.
For example, you might approach the line at 2:00 pm and the Fastpass Return may show "Return Between 5:50 and 6:50". Get your pass and come back any time within that hour to gain access to the express line.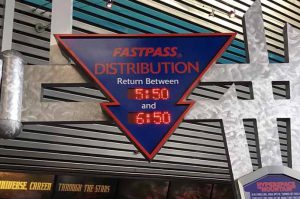 If the posted time works for you, enter the fastpass distribution area which will be close to the ride entrance near the return time sign (ask a cast member if you don't see it). There will be a series of ticket distribution kiosks where you will be able to obtain your fastpass ticket.
THE FASTPASS KIOSK
To reserve a return time and get your paper fastpass ticket, simply insert your park admission pass into the appropriate slot of the distribution machine to scan your pass. It will spit out a ticket showing the ride name and the Fastpass Return Time. It will also indicate when your next Fastpass will become available, usually at the start of your current pass return time (if not sooner).  BE SURE NOT TO LEAVE YOUR PARK PASS IN THE MACHINE! Generally, if you're early or late for your return time, you won't be allowed into the Fastpass return line so be sure to be on time!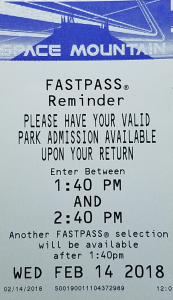 HOW MANY FASTPASSES CAN I HAVE AT ONE TIME?
Once upon a time you could have one pass in each park at any given time but now you're limited to one resort-wide with a couple of exceptions noted below. There is a limited amount of fastpasses in the daily pool for each ride and the system is designed to keep visitors from hoarding them.
Below the return time on your ticket will be a notice stating when you will be able to access another Fastpass. This will either be 2 hours from the time your existing pass was issued or the beginning of the return time on your existing pass, whichever is soonest.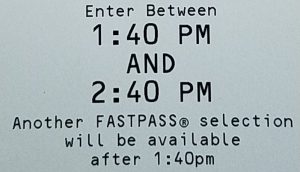 The Fantasmic! and World of Color shows are the exceptions to the one pass at a time rule. These passes will grant you access to preferred viewing areas and are "disconnected" from the rest of the system. They can be held all day while acquiring passes for other attractions but they DO run out as the shows are very popular. Get them early in the day!
WHICH RIDES OFFER FASTPASSES?
Below is a list of rides that currently offer fastpasses for each of the 2 parks. The rides in bold type are those for which fastpasses often are depleted at some point during the day. The underlined rides are THE most popular rides for which passes tend to run out the soonest. Get your passes for these rides as early as you can!
DISNEYLAND
TOMORROWLAND – Space Mountain / Star Tours / Buzz Lightyear Astro Blasters
FANTASYLAND – Matterhorn Bobsleds / It's a Small World
MICKEY'S TOON TOWN – Roger Rabbit's Car Toon Spin
AVENTURELAND – Indana Jones
NEW ORLEANS SQUARE – Haunted Mansion / Pirates of the Caribbean
FRONTIER LAND – Thunder Mountain Railroad / Fantasmic!
CRITTER COUNTRY – Splash Mountain (Busy mainly in summer months)
CALIFORNIA ADVENTURE
PARADISE PIER – Goofy's Sky School / Toy Story Midway Mania! / World of Color
PIXAR PIER – Incredicoaster

GRIZZLY PEAK – Grizzly River Run / Soarin' Around the World
HOLLYWOOD LAND – Guardians of the Galaxy – Mission: BREAKOUT!

CARS LAND – Radiator Springs Racers
DISNEYLAND FASTPASS TIPS AND FACTS
Here are a few key facts and tips to consider in your use of FASTPASS
Fastpasses are not guaranteed to be available at all times on any given day. Passes can and do run out long before the park closes on busy days
On days when the park is not busy, fastpasses may not be offered for certain rides.
You will use your park admission pass to acquire the fastpass AND when you enter the fast pass return line. The paper fastpass ticket is just a reminder of your return time. Keep it as a souvenir and start a collection!
Fastpasses are only good for the day they are issued. You can't use it tomorrow if you missed your window today.
Use the 30-minute rule – When going for a fastpass, check the estimated wait time for the standby line. If it's less than 30 minutes, ride the ride then and there and save your fastpass allocation for a ride with a longer standby line.
You can't get multiple fastpasses using one park pass so make sure everyone in your party is present or you have all their park passes with you when you go to acquire passes! I recommend everyone being present so if the standby line is under 30 minutes, you can all ride then!
Get all your party's fastpasses at the same time. If one of your party is missing and you come back later to get their ticket, you may not get the same return time! Rule of thumb – if you want to ride together, get fastpasses together.
RECOMMENDED STRATEGY
Here's what I like to do – Once settled in the park, I go grab a fastpass for one of the more popular rides first thing in the morning (always following the 30-minute standby rule noted above). If I'm in Disneyland, I'll shoot for Space Mountain. If California Adventure, I'll go for Radiator Racers. You might be more interested in something else. The key is to start your ride day with obtaining a fastpass for a high demand ride. This is ESPECIALLY true if it's a busy peak season day when Fastpasses for the most popular rides can be gone by early afternoon.
Fastpass now in hand, go enjoy some other rides until your return window begins. Return to your reserved ride any time within that window.
Note when your next fastpass will be available. This will either be the start time of your existing return time or 2 hours from the time the existing pass was issued whichever is shorter. Either way, go get another fastpass for a different ride as soon as you can.
Always remember the 30-minute rule when acquiring fastpasses!
Repeat this process throughout the day and you'll cut your wait times significantly. Make use of the system as often as you can!
SO, DOES DISNEYLAND FASTPASS WORK?
I opened up this post by asking "how does Disneyland Fastpass work?" Well, the answer is, QUITE WELL! In fact, I consider it one of the most ingenious ideas Disney has ever come up with for ride operations – almost as brilliant as their entertaining ride ques. With some careful planning and a knowledge of which fastpass rides you want to include in your day, you can shave hours off your line time – which translates to more rides! So use this service often. See you at the resort soon!